Advisors of Newt Gingrich and Mit Romney Have Ties With the Military Industry, With Lucrative Federal Contracts


December 25, 2011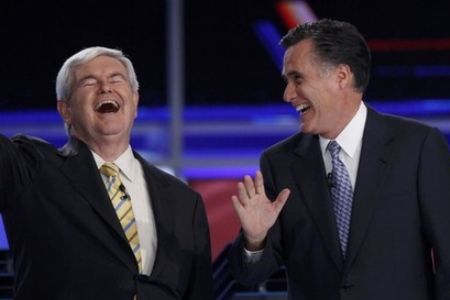 Republican candidates for 2012 US presidential election, former Speaker of the US House of Representatives Newt Gingrich (L) and former Massachusetts Governor Mitt Romney (R) (Press TV, file photo, 2011).
GOP advisers tied to federal contracts
Press TV, Sun Dec 25, 2011 3:1PM GMT
National security advisors to the US Republican presidential candidates have ties to the defense, security and energy companies that have received at least USD 40 billion in federal contracts.

According to a report by Bloomberg, five of the national security and foreign policy advisers to the Republican candidate, Mitt Romney, have ties to companies that last year alone received USD 7.3 billion in contracts with the US Department of Defense.

Romney and former House Speaker Newt Gingrich, who are leading in the polls, have advisers who sit on the board of directors of the US subsidiary of BAE Systems, Inc., Europe's largest defense contractor.

The American company, which has received at least USD 37 billion in government contracts since 2008, makes vehicles for the US army and provides information technology systems for the American intelligence agencies.

During a national security debate on November 22, Gingrich argued that the US must strengthen the tools needed to secure the country's borders to "prevent terrorist organizations from sneaking agents and weapons."

In the same debate, Gingrich and Romney also said that they be willing to launch a military strike on Iran to subvert Tehran's nuclear program if necessary after they become president.

The United States, Israel, and some of their allies accuse Tehran of pursuing military objectives in its nuclear program and have used the false charge as a pretext to push for the imposition of sanctions on the country.

Iran argues that as a signatory to the nuclear Non-Proliferation Treaty and a member of the International Atomic Energy Agency, it has the right to develop and acquire nuclear technology for peaceful purposes.

Iranian officials have promised a crushing response to any military strike against the country, warning that such a measure could spark a war that would spread beyond the Middle East.

PG/PKH
---
Fair Use Notice
This site contains copyrighted material the use of which has not always been specifically authorized by the copyright owner. We are making such material available in our efforts to advance understanding of environmental, political, human rights, economic, democracy, scientific, and social justice issues, etc. We believe this constitutes a 'fair use' of any such copyrighted material as provided for in section 107 of the US Copyright Law. In accordance with Title 17 U.S.C. Section 107, the material on this site is distributed without profit to those who have expressed a prior interest in receiving the included information for research and educational purposes. For more information go to: http://www.law.cornell.edu/uscode/17/107.shtml. If you wish to use copyrighted material from this site for purposes of your own that go beyond 'fair use', you must obtain permission from the copyright owner.