90% of Gaza Casualties Are Civilians, Many of Whom Are Used as Human Shields by Invading Israeli Occupation Forces
August 2, 2014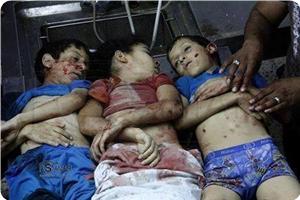 European medics: Gaza civilian casualty 90% of total war victims
[ 01/08/2014 - 04:24 PM ]
BRUSSELS, (PIC)--
90% of Gaza casualties, killed or injured in the ongoing Israeli offensive on the Gaza Strip, are civilians, European medics found out during a visit to Gaza hospitals.
The doctors said during a meeting held at Brussels Media Center on Thursday over the ongoing Israeli war crimes in Gaza: "Up to 90% of Gaza casualties are civilians, mostly women and children."
"Hospitals, vehicles, mosques, and schools, among many other civilian shelters and refugee camps, have all been shelled in the ongoing Israeli offensive on Gaza," the European medical delegation further reported.
"Tell me, for God's sake, are these babies the real terrorists?" Norwegian doctor Mads Gilbert, volunteering at al-Shifa hospital in Gaza, wondered as he took photo shots of the mutilated bodies of hundreds of murdered babies.
"I've never, in my entire life, seen such rivers of blood," he added.
"The total reported child casualties constitute 25% among Gaza death toll, which has topped 1400 so far," Gilbert declared, holding the UN, Obama, and the European countries as responsible for such genocides as the Israeli PM Benjamin Netanyahu.
Sworn affidavits on Israel's use of Palestinian civilians as human shields
[ 01/08/2014 - 06:01 PM ]
KHAN YOUNIS, (PIC)--
Sworn affidavits revealing Israel's use of Palestinian detainees as human shields throughout the incursions launched east of the Gaza Strip have been released by ex-prisoners at a time when the Israeli occupation has been pointing the finger at Hamas.
At a time when the Israeli PM Benjamin Netanyahu has been accusing Hamas of using Palestinians as human shields, Palestinian youngster Bakroun Al Najjar, 19, confirmed that the Israeli occupation forces rounded him up from his home in Khuzaa before summoning him to sit on the front facade of an invading tank.
"A state of unbearable panic overwhelmed me as I took notice of the heavy gunshots and shells that rocked the invaded area. Each and every mortar signaled an impending death for me."
The eye-witness confirmed that he has neither been the first nor the last to be used by the Israeli invading troops as a human shield throughout the round of incursions. He said the Israeli army lost its temper with every further doze of horror inculcated in them by the Palestinian resistance.
Said Abu Rida's statement was not better off as the latter was beaten up by the occupation soldiers and used as a shield all along a round of Israeli assaults launched on Palestinian homes.
"The moment was extremely terrifying. The soldiers put me in the front seat while they have been hiding inside of the tank."
Old policy renewed Such an Israeli crime has not been the only one of its kind as similar cases had been detected during former Israeli campaigns in the West Bank and Gaza, the most notorious of which were documented in the 2008 and 2009 Israeli offensives, when innocent Palestinian civilians were used as protective coverings.
The most shocking case occurred as the Israeli occupation forced a Palestinian child to search civilian homes in Tel al-Hawa, southwest of Gaza, and ordered him to examine mysteriously bomb-planted materials, human rights activists documented.
Flagrant infringements Human rights activist Yasser Abu al-Ghafour said the use of civilians as human shields is the most blatant violation of the decrees of international humanitarian laws, which do categorically sanction any such jeopardy against civilians' lives.
Article 28 of the Fourth Geneva Convention strictly prohibits the use of any person as "bulletproof vests" and rules for the compulsory neutralization of civilians in any armed offensive.
This site contains copyrighted material the use of which has not always been specifically authorized by the copyright owner. We are making such material available in our efforts to advance understanding of environmental, political, human rights, economic, democracy, scientific, and social justice issues, etc. We believe this constitutes a 'fair use' of any such copyrighted material as provided for in section 107 of the US Copyright Law. In accordance with Title 17 U.S.C. Section 107, the material on this site is distributed without profit to those who have expressed a prior interest in receiving the included information for research and educational purposes. For more information go to: http://www.law.cornell.edu/uscode/17/107.shtml. If you wish to use copyrighted material from this site for purposes of your own that go beyond 'fair use', you must obtain permission from the copyright owner.