Four People Killed in Aurora, Colorado, Shooting Again!


January 5, 2013
Several killed in Colorado shooting
At least four people died after an hours-long standoff between police and a gunman early Saturday in the Colorado town of Aurora in the US, the same town where a rampage inside a movie theatre left 12 dead last July.
By News Wires (text)
France 24, January 5, 2013 (AP) --
Authorities say four people are dead, including the suspect, after an hours-long police standoff at a Colorado townhome.
Police Sgt. Cassidee Carlson says a police special weapons team was called after gunshots were heard at the Aurora, Colorado, home at about 3 a.m. Saturday. Investigators say three victims appeared to have been killed before officers arrived.
Carlson says the suspect was shot and killed when he exchanged fire with officers at about 9 a.m.
A fifth person escaped uninjured, but Carlson declined to elaborate.
Violence put Aurora in the national spotlight in July after a gunman's bloody rampage inside a movie theater in the Denver suburb left 12 people dead. Prosecutors will go to court Monday to outline their case against the suspect, James Holmes.
***
Four dead in hostage-taking in Aurora, Colorado
By Keith Coffman
Sat Jan 5, 2013 3:15pm EST
AURORA, Colo. (Reuters) -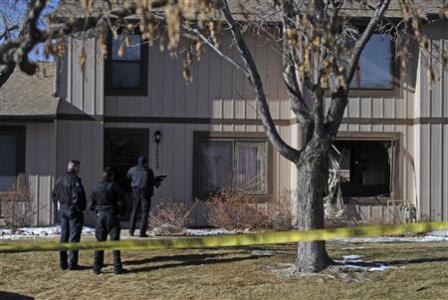 Four people, including the gunman, were dead following a hostage-taking incident on Saturday in Aurora, Colorado, the same town where a man shot dead 12 people and wounded 58 more in a movie theater last July, police told reporters.
After nearly six hours of failed negotiations, police killed the gunman as he opened fire on them through a second-story window of a townhouse where he had barricaded himself, said Aurora police spokeswoman Cassidee Carlson.
It was unclear from police and media reports whether officers entered the home or shot the man through the window. KUSA television reported that he was killed after police fired tear gas and entered the home, where they found three more bodies.
The victims were believed to be related to the gunman, Carlson said.
Around 3 a.m. (1000 GMT), police notified neighbors of an emergency situation and evacuated several blocks, Carlson said in a news briefing outside the row of beige townhouses in this middle-class Aurora neighborhood, just outside Denver.
One person inside had escaped and alerted authorities, she said.
Around 8 a.m., the gunman fired on a police vehicle, leading to an exchange of gunfire, KMGH television said. At that time police saw the first body, the station reported.
Carlson said the gunman, whose name has not been released, died just before 9 a.m.
A neighbor, Michael Ignace, 46, said he had spoken to the gunman and "he seemed like a reasonable guy, and we talked about motorcycles."
Police entered Ignace's apartment during the night and alerted him, but he chose to stay in his house, he said.
The same Denver suburb was rocked by the mass shooting in July that had been the deadliest in the United States of 2012 until the December 14 massacre at an elementary school in Newtown, Connecticut, where 28 died, including the shooter.
In Aurora, the gunman opened fire during a midnight screening of the Batman movie "The Dark Knight Rises." Police identified former neuroscience graduate student James Holmes as the suspect in a crime that renewed debate about the sale of powerful semi-automatic rifles and extended capacity magazines.
(Reporting by Keith Coffman in Aurora, with additional reporting by Daniel Trotta; editing by Gunna Dickson)
***
Colorado Batman Movie Shooting Suspect James Holmes Was PhD Student
By CLAYTON SANDELL, KEVIN DOLAK, and COLLEEN CURRY
Good Morning America – Fri, Jul 20, 2012
The suspected "lone-wolf" shooter of the Batman movie theater massacre in Aurora, Colo. earlier today has been identified as PhD student James Holmes, who recently withdrew from his neuroscience studies at the Univesrity of Colorado before shooting up "The Dark Knight Rises" screening.
Holmes, 24, moved to Aurora to pursue his PhD at the University of Colorado medical center, living just blocks from the hospital in an apartment that is now laced with explosives and being searched by Haz-Mat teams.
Holmes killed at least 12 people and injured as many as 50, including U.S. military members, during the midnight premiere of the movie at the Century 16 Movie Theaters in Aurora early this morning. He barged into the theater mid-show, setting off smoke bombs and stalking up and down the aisles firing as many as four weapons at viewers.
He was captured by police in the parking lot while still wearing a bullet-proof vest, riot helmet and gas mask. Federal law enforcement sources tell ABC News that Holmes bought a ticket to the movie, slipped out of the theater once it began and propped open the emergency exit before gathering his weapons and gear and coming back into the theater. Once inside, he opened fire.
Moviegoer Christopher Ramos today recalled the real-life horror of the midnight premiere of the latest Batman movie, "The Dark Knight Rises," in Aurora, Colo., as a gunman decked in riot gear set off smoke bombs and opened fire on the unsuspecting audience.
"People were running everywhere, running on top of me, like kicking me, jumping over me. And there were bodies on the ground," Ramos said. "I froze up. I was scared. I honestly thought I was going to die."
"The image in our heads is stuck in there. I still have the ticket right here and honestly, I'm never going to forget this night at all. Because it was the first time I saw something that was real. Like a real-life nightmare that was there, not dreaming of," Ramos told ABC News today.
Holmes was caught by police in the parking lot of the movie theater shortly after the shooting still dressed in his riot gear, an outfit eerily similar to a villain in "The Dark Knight Rises." He warned police that his Aurora apartment was booby-trapped, leading police to evacuate the apartment complex. They were working this morning to gain entry to and diffuse the apartment, which they said seems to be "elaborately" rigged with explosives.
"The pictures we have from inside the apartment are pretty disturbing considering how elaborate the apartment is booby trapped," police said outside of the apartment complex today. The "flammable and explosive" materials could have blown up Holmes' apartment building and the ones near it, police said.
The apartment complex is home exclusively to University of Colorado Medical Center students, patients, and staff members, residents tell ABC News.
Witnesses in the movie theater said Holmes saw smoke and heard gunshots that they thought were part of the movie until they saw Holmes standing in front of the screen, after entering from an emergency exit. Holmes methodically stalked the aisles of the theater, shooting people at random, as panicked movie-watchers in the packed auditorium tried to escape, witnesses said.
"You just smelled smoke and you just kept hearing it, you just heard bam bam bam, non-stop. The gunman never had to reload. Shots just kept going, kept going, kept going," one witness told ABC News.
"I'm with coworkers and we're on the floor praying to God we don't get shot, and the gunshots continue on and on, and when the sound finally stopped, we started to get up and people were just bleeding," another theatergoer said.
Police said 10 victims died inside the theater, while dozens of others were taken to local hospitals, including a child as young as 6 years old.
A San Diego woman identifying herself as James Holmes's mother spoke briefly with ABC News this morning.
She had awoken unaware of the news of the shooting and had not been contacted by authorities. She immediately expressed concern that her son may have been involved.
"You have the right person," she said.
"I need to call the police," she added. "I need to fly out to Colorado."
The woman and her husband later released a statement saying their "hearts go out to those who involved in this tragedy and to the families and friends of those involved. We are still trying to procss this information and we appreciate that people will respect our privacy."
Holmes was wearing a bullet-proof vest and riot helmet and carrying a gas mask, rifle, and handgun, when he was apprehended, according to police. Federal Alcohol, Tobacco, and Firearms sources told ABC News that agents will begin tracing an assault rifle, shotgun, and two handguns used in the attack.
As he was taken into custody, Holmes mentioned having "boobytrapped" his apartment with explosives stored, leading police to evacuate his entire North Aurora apartment complex and search the buildings early this morning.
The highly-anticipated third installment of the Batman triology opened to packed auditoriums around the country at midnight showings on Friday morning, and features a villain named Bane who wears a bulletproof vest and gas mask. Trailers for the movie show explosions at public events including a football game. Though many moviegoers dressed in costume to attend the opening night screening, police have made no statements about any connection between the gunman's motives and the movie.
Police in New York have intensified security around showings of the film throughout the five boroughs today, with police commissioner Ray Kelley saying that "as a precaution against copycats and to raise the comfort levels among movie patrons in the wake of the horrendous shooting in Colorado, the New York City Police Department is providing coverage at theaters where the 'The Dark Knight Rises' is playing."
The Paris premiere of the movie has been cancelled in the wake of the shootings. "Warner Bros. and the filmmakers are deeply saddened to learn about this shocking incident. We extend our sincere sympathies to the families and loved ones of the victims at this tragic time," the movie's producers said in a statement.
Witnesses watching movies in theaters next to the one where the shooting took place said bullets tore through the theater walls and they heard screaming.
"The suspect throws tear gas in the air, and as the tear gas appears he started shooting," said Lamar Lane, who was watching the midnight showing of the movie with his brother. "It was very hard to breathe. I told my brother to take cover. It took awhile. I started seeing flashes and screaming, I just saw blood and people yelling and a quick glimpse of the guy who had a gas mask on. I was pushed out. There was chaos, we started running."
One witness said she saw people dropping to the ground after the gunshots began.
"We were maybe 20 or 30 minutes into the movie and all you hear, first you smell smoke, everybody thought it was fireworks or something like that, and then you just see people dropping and the gunshots are constant," witness Christ Jones told ABC's Denver affiliate KMGH. "I heard at least 20 to 30 rounds within that minute or two."
A man who talked to a couple who was inside the theater told ABC News, "They got up and they started to run through the emergency exit, and that when she turned around, she said all she saw was the guy slowly making his way up the stairs and just firing at people, just picking random people," he said. "The gunshots continued to go on and on and then after we didn't hear anything...we finally got up and there was people bleeding, there was people obviously may have been actually dead or anything, and we just ran up out of there, there was chaos everywhere."
Witnesses and victims were taken to Gateway High School for questioning.
Hundreds of police and FBI agents are involved in the investigation. A senior official who is monitoring the situation in Washington said that early guidance based on the early snapshot of this man's background indicated that this act does not appear to be linked to radical terrorism or anything related to Islamic terrorism.
Dr. Comilla Sasson, at the University of Colorado Hospital where many of the victims were taken, said they are currently operating on nine critical patients and have treated 22 in all. She called the hospital "an absolutely terrifying scene all night."
"The good news is that the 3-month-old has actually been discharged home and is in the care of their parents
In a statement, President Obama said, "Michelle and I are shocked and saddened by the horrific and tragic shooting in Colorado. Federal and local law enforcement are still responding, and my administration will do everything that we can to support the people of Aurora in this extraordinarily difficult time. We are committed to bringing whoever was responsible to justice, ensuring the safety of our people, and caring for those who have been wounded."
A man who was in the adjacent theater with his son, said that the commotion began as one of the action scenes was starting up.
"These guys came through, and they say someone's shooting," he said. "I thought, 'Oh, they must have heard the fireworks, you know ... I had no idea. And then the alarms started to go off in the theater.'"
An explosive device was also found inside the movie house. Police are not sure whether the device, which investigators are calling a bomb, was already in place or whether it was thrown into the crowd.
Ambulances rushed to the scene as audience members fled the theater.
Investigators are now interviewing friends and associates of the suspect to get a sense of the man's background.
For continuing coverage on "Tragedy in Colorado: The Batman Massacre," tune in to "World News," "20/20" and "Nightline."
Matthew Mosk contributed to this report.
http://news.yahoo.com/colorado-batman-movie-shooting-suspect-phd-student-085940589--abc-news-topstories.html
This site contains copyrighted material the use of which has not always been specifically authorized by the copyright owner. We are making such material available in our efforts to advance understanding of environmental, political, human rights, economic, democracy, scientific, and social justice issues, etc. We believe this constitutes a 'fair use' of any such copyrighted material as provided for in section 107 of the US Copyright Law. In accordance with Title 17 U.S.C. Section 107, the material on this site is distributed without profit to those who have expressed a prior interest in receiving the included information for research and educational purposes. For more information go to: http://www.law.cornell.edu/uscode/17/107.shtml. If you wish to use copyrighted material from this site for purposes of your own that go beyond 'fair use', you must obtain permission from the copyright owner.