Colorado Suspect, James Holmes, Charged with 24 Counts of Murder, for Killing 12, Injuring 58 in a Batman Movie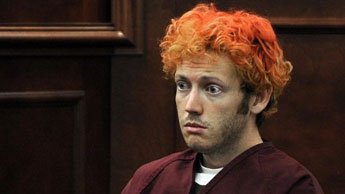 Colorado suspect charged with 24 counts of murder
The suspect in a shooting spree at a Colorado screening of "The Dark Knight Rises" that left 12 people dead and 58 wounded was charged on Monday with 24 murder counts -- two for each victim -- and 116 counts of attempted murder.
Colorado shooting suspect appears in court
James Holmes, the student accused of shooting 12 people at a Colorado cinema, made his first court appearance Monday, but remained silent and apparently dazed. The prosecutor's office has said that he may face the death penalty.
Colorado suspect charged with 24 counts of murder
The suspect in a shooting spree at a Colorado screening of "The Dark Knight Rises" that left 12 people dead and 58 wounded was charged on Monday with 24 murder counts -- two for each victim -- and 116 counts of attempted murder.
By FRANCE 24 (video) News Wires (text)
REUTERS -
The former graduate student accused of opening fire at a midnight screening of the new "Batman" film in Colorado, killing 12 people, was charged on Monday with 24 counts of first-degree murder, making him eligible for the death penalty if convicted.
James Holmes, who was arrested behind a suburban Denver multiplex minutes after the July 20 shooting at a packed showing of "The Dark Knight Rises," also faces 116 counts of attempted murder in one of the worst outbursts of U.S. gun violence in recent years. Fifty-eight people were wounded in the attack, some of whom remain in critical condition.
Prosecutors have said a decision could be months away on whether to seek the death penalty against Holmes, 24, who made his second court appearance on Monday. Colorado has three men on its death row and but has not executed a condemned inmate since 1997.
Arapahoe County District Attorney Carol Chambers' office charged Holmes with two counts for each victim - one for carrying out the crime "after deliberation" and the second for "malice manifesting extreme indifference to human life."
Holmes, who authorities say styled himself after Batman's comic-book nemesis "The Joker," appeared in court clad in jail garb, his hair still dyed bright orange but with the color fading to pink in places.
He sat impassively at a table with two defense lawyers through the 45-minute hearing but seemed more alert than during his initial court appearance a week ago, when he looked dazed and groggy.
The former neuroscience student spoke only once, quietly answering, "Yes," in response to a question from Arapahoe County District Judge William Sylvester. He mostly kept his gaze lowered and did not look at a courtroom gallery packed with members of the media and victims' family members.
The judge set a pre-trial hearing for Sept. 27, tentatively scheduling a preliminary hearing for the week of Nov. 13.
Police say Holmes entered Theater 9 at the Century 16 multiplex in the Denver suburb of Aurora wearing tactical body armor and a gas mask and tossed smoke bombs before spraying moviegoers with bullets from three guns.
Authorities who rushed to his apartment following the movie house massacre said they found it wired with enough explosives to bring down the three-story building, and spent several days dismantling the booby traps. Holmes was also charged on Monday with possessing an explosive device.
'Evil presence'
Pregnant survivor Ashley Moser suffered a miscarriage following the shooting, but the loss of her fetus did not alter the number of murder charges because the unborn cannot be counted as homicide victims under Colorado law.
Moser, 25, was left paralyzed from the waist down from her own bullet wounds. Her daughter, 6-year-old Veronica Moser-Sullivan, was the youngest of those who died in the shooting.
Moser's aunt, MaryEllen Hansen, said after Monday's hearing that she found Holmes a "diabolical, evil presence."
"But he looked very sane to me. He really did. His reaction looked different," she said. "When we've seen him before, he looked like he was kind of spaced out or out of touch. But he seemed very, very alert today and very lucid as to what was going on."
Prosecutors, who are under a protective or "gag" order imposed in the case by the judge, declined to explain their decision to file the double charges, but legal experts say it could to be a strategy to offer jurors more than one path to a guilty verdict.
During the hearing, defense attorney Tamara Brady asked that prosecutors turn over evidence collected in the case. The defense is seeking a package that news reports have said was sent by Holmes to a University of Colorado psychiatrist, Dr. Lynne Fenton.
Prosecutors responded that they had not yet opened that parcel, which according to Fox News contained a notebook outlining his plans for the shooting, including stick-figure drawings.
Holmes, a San Diego native, was a doctoral student of neuroscience at the university's Anschutz Medical Campus before turning in paperwork to drop out in June.
Court documents filed on Friday by defense lawyers said he had been a patient of Fenton, who is medical director for student mental health services on campus. She is also listed as a member of the school's behavioral threat-assessment team.
Neighbors and students in the North Aurora neighborhood where Holmes lived said his withdrawal from the university would likely have triggered his eviction from his apartment because the building is reserved for people affiliated with the school.
Police have not offered a motive for the shooting rampage that stunned Aurora and evoked memories of the 1999 massacre at Columbine High School less than 20 miles (32 km) away in Littleton.
Authorities have said that following his arrest, Holmes called himself "The Joker" and experts say his mental state could play an important role in the case.
Police said Holmes was armed on the night of the shooting with a Smith & Wesson M&P .223 semi-automatic rifle, similar to an AR-15 assault rifle; a 12-gauge shotgun and a Glock .40-caliber handgun, according to police.
An additional Glock .40-caliber handgun was found in his car. All the weapons had been bought legally in the previous 60 days.
Colorado shooting suspect was 'psychiatric patient'
July 28, 2012, By News Wires (text)
REUTERS -
A former University of Colorado graduate student accused of killing 12 people and wounding 58 others in a shooting rampage at a Denver-area movie theater last week had been under the care of a psychiatrist who was part of a campus threat-assessment team.
The disclosure came in court documents filed on Friday by lawyers for James Holmes, 24, who is accused of opening fire last Friday on a packed showing of the latest Batman movie, "The Dark Knight Rises," in the Denver suburb of Aurora.
The defense attorneys, in their request to an Arapahoe County district judge, are seeking a court order requiring prosecutors to turn over the contents of a package that Holmes sent to Dr. Lynne Fenton and was later seized by investigators.
"Mr. Holmes was a psychiatric patient of Dr. Fenton, and his communications with her are protected," the filing said.
Fenton, medical director for student mental health services at the University of Colorado-Denver Anschutz Medical Campus, provides medication and psychotherapy for grad students in addition to her teaching duties, according to a school website.
A professional biography of Fenton posted on the site said she had conducted research on schizophrenia, including a two-year grant to work in the schizophrenia research department of the U.S. Department of Veterans Affairs from 2008 to 2010.
Fenton also is a member of the campus-based "behavioral assessment and threat assessment team," which helps faculty and staff deal with "individuals who may be threatening, disruptive or otherwise problematic," according to that group's website.
It could not be ascertained if Fenton was caring for Holmes under the threat-assessment program or under routine counseling she provided to students on campus.
Under Colorado law, mental health professionals cannot be held liable in civil suits for failing to predict a patient's violent behavior unless it involves a "serious threat of imminent physical violence against a specific person or persons." When such a threat is made, the mental health professional is required to take action, which may include notifying those targeted or a law enforcement agency.
Fenton could not immediately be reached by Reuters for comment, and a spokeswoman for the University of Colorado medical school declined to comment, citing restrictions under a gag order issued by the judge presiding over the case.
The university, where Holmes had been enrolled as a doctoral student of neuroscience, confirmed earlier this week that a suspicious package was delivered by mail on Monday and that it was "immediately investigated and handed over to authorities within hours."
Fox News has reported, citing an unnamed law enforcement source close to the investigation, that two packages were sent by Holmes to a psychiatrist on the faculty of the University of Colorado, and that one contained a notebook detailing the shooting scenario. According to Fox News, the notebook contained hand-drawn illustrations of stick figures shooting at other stick figures.
The defense motion accuses the government of leaking information to the media in defiance of a gag order, thereby jeopardizing Holmes' rights to due process and fair trial by an impartial jury. It says his lawyers will request a hearing to determine "appropriate sanctions for this misconduct."
Prosecutors, responding to the discovery motion, disputed various elements of media accounts as being erroneous, suggesting that anyone who had provided information to Fox News and other outlets lacked real knowledge of the case.
"These factual errors lead (the government) to believe ... that the media is getting information from hoaxers, fraudsters, or maybe from nobody at all by creating fake 'law enforcement sources' out of whole cloth," prosecutors said in their filing.
Formal charges against the suspect, who dyed his hair bright orange and was said by authorities to have referred to himself as the Joker – Batman's comic book archenemy – are expected to be filed in court on Monday.
The judge in the case, William Sylvester, set a hearing on the defense discovery motion to be held as part of Monday's proceedings. Sylvester also said he would consider a pleading by news media organizations to make public court documents the judge has sealed in the case.
Arrested within minutes of the shooting rampage at his car in the theater's parking lot, Holmes is being held in solitary confinement in the local jail.
In addition to charges stemming from one of the worst outbursts of U.S. gun violence in recent years, he is accused of wiring his apartment with enough explosives to have leveled the entire building if they had been detonated.
The apartment house was evacuated when the booby traps were discovered. But the explosives were later safely dismantled and removed by authorities, and Holmes' neighbors began returning to their homes on Wednesday night.
The latest disclosures about the suspect came to light as mourners attended the third funeral in as many days for one of the victims of the shooting rampage, this one for an 18-year-old high school graduate, Alexander J. "AJ" Boik," who was bound for art college in the fall.
In addition to Fenton's research on schizophrenia, she also has a background in physical medicine and had worked as a medical acupuncturist at a Colorado rehab center for several years before doing her residency in psychiatry, according to her resume on the University of Colorado website.
State records posted online show that she received a "letter of admonition" from the Colorado Board of Medical Examiners in 2004, though details of the rebuke could not be immediately accessed from the board's website.
The New York Times reported the admonition cited Fenton for prescribing various pills for her husband and other non-patients on several occasions – including the sleep aid Ambien, the allergy medication Claritin and the painkiller Vicodin – and for failing to properly document the prescriptions. According to the Times, the board noted in its letter that she was no longer writing prescriptions for non-patients.
Colorado shooting suspect appears in court
July 23, 2012, By FRANCE 24 (video) News Wires (text)
AP -
A former doctoral student accused of a deadly shooting rampage at a midnight showing of the new Batman movie in Colorado appeared in court for the first time Monday, but he didn't seem to be there at all.
Unshaven and appearing dazed, James Holmes sat virtually motionless, his brown hair dyed a shocking shade of orange. It was the world's first glimpse of the 24-year-old since Friday's shooting left 12 dead and 58 injured in one of the worst mass shootings in U.S. history.
Holmes didn't say a word.
Prosecutors said later they didn't know if Holmes was on medication.
Authorities have said he is being held in isolation. His demeanor appeared to anger the relatives of some of the victims who attended the hearing and stared at him the entire time.
Holmes, whom police say was clad in body armor and armed with an assault rifle, a shotgun and handguns during the attack, was refusing to cooperate in the investigation, authorities said. They said it could take months to learn what prompted the attack.
Holmes is expected to be formally charged next Monday. He is being held on suspicion of first-degree murder, and he could face additional counts of aggravated assault and weapons violations.
Prosecutor Carol Chambers said her office is considering pursuing the death penalty against Holmes. She said a decision will be made in consultation with victims' families.
Relatives of the shooting victims leaned forward in their seats to catch their first glimpse of him. Two women held hands tightly, one shaking her head.
David Sanchez, who waited outside the courthouse during the hearing, said his pregnant daughter escaped uninjured but her husband was shot in the head and was in critical condition.
Asked what punishment Holmes should get if convicted, Sanchez said, "I think death is."
His daughter was delivering her baby on Monday.
As investigators tried to piece together Holmes' life and apparent breakdown, his family was scheduled to speak Monday afternoon.
A lawyer representing members of Holmes' family, Lisa Damian, planned to hold a news conference in San Diego.
Police have said Holmes began buying guns nearly two months before the shooting and that he received at least 50 packages in four months at his home and at school.
Holmes recently bought 6,000 rounds of ammunition over the Internet, Aurora Police Chief Dan Oates said.
Holmes' apartment was filled with trip wires, explosive devices and unknown liquids, requiring police, FBI officials and bomb squad technicians to evacuate surrounding buildings while spending most of Saturday disabling the booby traps.
Investigators found a Batman mask inside his apartment, a law enforcement official close to the investigation said Sunday on condition of anonymity because he was not authorized to speak to the news media.
Soon after the shooting, some reports said Holmes' hair was red and he called himself "The Joker" when he was arrested. "The Joker" is one of Batman's enemies in the fictional Gotham and has brightly colored hair.
Officials at the University of Colorado Anschutz Medical Campus were looking into whether Holmes used his position in a neuroscience graduate program to collect hazardous materials.
His reasons for quitting the program in June remained a mystery. Holmes recently took an intense oral exam that marks the end of the first year. University officials would not say if he passed, citing privacy concerns.
Meanwhile, the owner of a gun range told The Associated Press that Holmes applied to join the club last month but never became a member because of his behavior and a "bizarre" message on his voicemail.
When owner Glenn Rotkovich called to invite Holmes to a mandatory orientation, he said he heard a message on Holmes' voicemail that was " guttural, freakish at best."
Rotkovich told his staff to watch out for Holmes at the orientation and not to accept him into the club.
The pastor for the suspect's family recalled a shy boy who was driven to succeed academically.
"He wasn't an extrovert at all. If there was any conversation, it would be because I initiated it, not because he did," said Jerald Borgie, who last spoke with Holmes about six years ago.
Evidence shows Batman shooting 'calculated'
France 24, July 22, 2012, By Katharyn GILLAM (video) News Wires (text)
REUTERS -
Deliveries received by the man accused of committing a movie house massacre at a Denver-area premiere of the new "Batman" film suggest months of "calculation and deliberation" leading up to the shooting rampage that killed 12 people, police said on Saturday.
Aurora Police Chief Dan Oates discussed the shipments as local and federal authorities completed the painstaking process of disarming suspect James Holmes' apartment, which was found booby-trapped with explosive devices after the shooting at a multiplex theater several miles away.
On Saturday, the local coroner's officer released the names of the 12 people killed. As evening fell, residents gathered at a local high school to mourn the passing of a classmate who graduated in May.
"We've become aware that the suspect over the last four months received a high volume of deliveries to both his work and home addresses," Oates said. "This begins to explain how he got his hands on all the magazines and ammunition.
"We also think it begins to explain some of the materials he had in his apartment," Oates said. "What we're seeing here is evidence of some calculation and deliberation."
A gunman wearing a full suit of tactical body armor, helmet and gas mask opened fire at a packed midnight showing of "The Dark Knight Rises" early on Friday morning, killing 12 people and wounding 58. Holmes, 24, was arrested minutes later in a parking lot behind the cinema.
Among the dead were a 6-year-old girl who had just learned to swim, a young man celebrating his 27th birthday and an aspiring sportscaster who missed by minutes being on the scene of a Toronto mall shooting earlier this summer.
The mass shooting stunned the nation, evoking memories of the 1999 massacre at Columbine High School in Littleton, 17 miles (27 km) from Aurora, where two students opened fire and killed 12 students and a teacher.
It also reverberated in the U.S. presidential race. Both President Barack Obama and his Republican rival, Mitt Romney, toned down their campaigns on Friday, pulled ads from Colorado and dedicated scheduled events to the victims.
Obama was scheduled to travel to Colorado on Sunday to honor the shooting victims, an administration official said. 'The joker'
Those who witnessed the shooting told of a horrific scene, with dazed victims bleeding from bullet wounds, spitting up blood and crying for help.
"I slipped on some blood and landed on a lady. I shook her and said, 'We need to go; get up,' and there was no response, so I presumed she was dead," said Tanner Coon, 17.
When police arrested Holmes, he was armed with an AR-15 assault rifle, a 12-gauge shotgun and a Glock .40-caliber handgun, Oates said. Police found an additional Glock .40-caliber handgun in his car, parked just outside the theater's rear emergency exit, he said.
Police said Holmes had purchased the weapons legally at three area gun stores in the last 60 days and bought 6,000 rounds of ammunition online, including a 100-round drum magazine for an assault rifle.
Arapahoe County Sheriff Grayson Robinson said the suspect was being held in solitary confinement to protect him from other prisoners, a routine move in high-profile cases.
Holmes, who authorities said had dyed his hair red and called himself "the Joker" in a reference to Batman's comic-book nemesis, was due to make an initial court appearance on Monday.
Little has surfaced from Holmes's past to suggest he was capable of such violence.
Until last month, he was studying for a doctoral degree in neuroscience at the University of Colorado's Anschutz Medical School, a few blocks from his apartment.
A top student, he had earned a prestigious federal grant from the National Institutes for Health to support his studies. The grants are intended for "outstanding neuroscientists and academicians who will make significant contributions to neurobiology," university spokeswoman Jacque Montgomery said.
Holmes had spent a year in the doctoral program, where a fellow student described him as quiet and studious, before he abruptly withdrew from the university last month. He gave no reason for his departure.
Holmes kept a low profile off campus as well. He was not active under his own name on social media sites like Facebook and both the landlord and fellow tenants of his red-brick apartment building said they knew little about him.
Slain student remembered
Neighbors who met him in the local bar described him as relaxed and friendly, though a few recalled him displaying brief flashes of anger over seemingly trivial exchanges.
The University of Colorado Hospital, which treated some of the shooting victims, said 10 people had been released and five remained in critical condition. The Medical Center of Aurora said four of its seven patients remained in the intensive care unit, while three others were on the main trauma floor.
A memorial of flowers, candles and stuffed animals quickly sprung up where the shooting rampage took place. A handwritten sign read: "7/20 gone not forgotten."
At the Saturday evening memorial service at Gateway High School, shooting victim and recent graduate A.J. Boik was remembered as beloved former student and talented artist who was bound for college in the fall.
"He was a very big part of this community," said Tami Avery, whose son played sports with Boik. "He will be dearly missed."
After the shooting rampage, police went to Holmes' apartment, where they found booby traps that prevented investigators from entering for two days and forced officials to evacuate the apartment complex and five nearby buildings.
Sources familiar with the investigation said that some 30 shells filled with gunpowder were spread through the 800-square-foot apartment and wired to a control box in the kitchen.
There were also at least two containers filled with "incendiary liquids" intended to fuel a fire from the initial explosions, and an undetermined amount of bullets meant to ricochet around the apartment.
"Given the amount of explosives that were there, if they detonated ideally, you would have had a very ample explosion with an ensuing thermal effect from the incendiary liquids that would have destroyed that apartment complex," a law enforcement official said.
Local and federal bomb experts used a remote-controlled robot to disable two trip wires, then detonated a tube known as a "water shot" to disable the control box. By Saturday afternoon, police had removed the last of the devices, packed them in sand in a dump truck and drove them away.
Authorities said they were working carefully to preserve any evidence in the apartment, which could shed light on the motives for a crime that stunned Aurora and much of the nation.
This site contains copyrighted material the use of which has not always been specifically authorized by the copyright owner. We are making such material available in our efforts to advance understanding of environmental, political, human rights, economic, democracy, scientific, and social justice issues, etc. We believe this constitutes a 'fair use' of any such copyrighted material as provided for in section 107 of the US Copyright Law. In accordance with Title 17 U.S.C. Section 107, the material on this site is distributed without profit to those who have expressed a prior interest in receiving the included information for research and educational purposes. For more information go to: http://www.law.cornell.edu/uscode/17/107.shtml. If you wish to use copyrighted material from this site for purposes of your own that go beyond 'fair use', you must obtain permission from the copyright owner.