60% of Polled Israelis Support a New War on Gaza
[ 17/04/2011 - 08:28 AM ]
NAZARETH, (PIC)--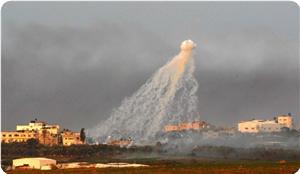 Yearning to burning more Palestinian children with white phosphorus bombs, 60% of Israelis support a new war on Gaza, as they did in 2009 (photo above).
An Israeli opinion poll revealed that 60% of Israelis support a new sweeping attack on the Gaza Strip similar to the 23-day operation Cast Lead of late 2008.
The poll conducted by "New Wave" polling institute for the Israel Today newspaper surveyed 400 Hebrew speaking Israelis.
The results displayed that only 29.6% opposed such a war.
A similar survey conducted last month for the same paper showed that 50.8% were supportive of a new military campaign against Gaza while 38.8% opposed it.
---
Fair Use Notice
This site contains copyrighted material the use of which has not always been specifically authorized by the copyright owner. We are making such material available in our efforts to advance understanding of environmental, political, human rights, economic, democracy, scientific, and social justice issues, etc. We believe this constitutes a 'fair use' of any such copyrighted material as provided for in section 107 of the US Copyright Law. In accordance with Title 17 U.S.C. Section 107, the material on this site is distributed without profit to those who have expressed a prior interest in receiving the included information for research and educational purposes. For more information go to: http://www.law.cornell.edu/uscode/17/107.shtml. If you wish to use copyrighted material from this site for purposes of your own that go beyond 'fair use', you must obtain permission from the copyright owner.